Case Study: A Global Leader On a Niche Market
Intensive R&D, increased production capacity, reconstruction of the product offer and diversification of target markets translated into a 3x increase in revenues, almost 4x increase in the value of EBITDA and the achievement by Rockfin, from the Tar Heel Capital portfolio, the position of a world leader in critical auxiliary systems for the energy and industrial sectors. The sale of Rockfin to Jet Investment returned 8.9x Cash-on-Cash to the THC Fund.
 The Polish company Rockfin, established in 1991, specialized in the design and production of critical systems supporting the operation of turbines, generators, and compressors in conventional power plants and in the oil and gas sector in marine and onshore applications. The Company was distinguished by unique engineering and production competences, a market niche, and an international range of operations.
The growing global demand for energy has powered new projects and investments in modernizing the existing strategic infrastructure. Tar Heel Capital predicted that these global and long-term trends would translate into a strong increase in the demand for ancillary devices, making it virtually impossible for a new player to enter this market. The Fund saw an opportunity for Rockfin to develop through a significant increase in production capacity and diversification of customers and products.
Arrangements between Tar Heel Capital and the owner of Rockfin began in 2012, and in mid-2013 the parties agreed on the purchase of 60 percent stake in the Company by the financial investor. In 2018, the Fund and the firm's key managers acquired the remaining 40 percent of the Company's shares from its founder.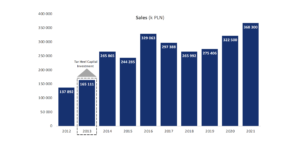 During the investment period, the Fund actively cooperated with the management board, with which it transformed the Company from a private enterprise to a corporate organization. The key strategic and operational drivers that translated into a significant development of Rockfin include, among others: 
Consolidation of subsidiaries, sale of non-strategic assets and change of the organizational structure.
Expansion of production plants from 5,300 to 11,000 sq m. (ability to execute orders at the level of EUR 100 million) and increasing the max. lifting capacity from 80 to 150 tons (CAPEX of EUR 10m in 2015-2019). Possibility of further expansion of plants and 2x increase in production capacity (up to EUR 200m in revenues).
Conducting intensive R&D activities, introducing own high-margin product innovations in terms of developing target industries (in 2017-2019, over 30 solutions tailored to individual needs were introduced, e.g. hydrogen systems or turbocharged products).
Reconstruction of the product offer and diversification of target markets – the Company's current solutions are used in strategic infrastructures – in conventional, distributed and renewable energy, in the production and processing of hydrogen, extraction, processing and transport of hydrocarbons or in industrial sector. Diversification also provides protection against economic downturns in each market segment. Solutions for coal-fired power plants have been eliminated from the offer.
Creation of the own supply chain that allows to minimize production costs, and thus offer competitive prices while maintaining attractive margins. A dedicated procurement team of approximately 50 experienced specialists (the only team on the market) has been built to carry out a thorough make-or-buy analysis in order to fully optimize costs and production capacity.
Expansion of the international sales team and opening of the Company's branches in Italy and the USA.
Acquiring new customers from the Blue-Chip segment, including Keppel Seghers, Atlas Copco, Bergen Engines, AAEM, Air Liquide, Innio, Alfa Laval, Kawasaki, and Friotherm.
Employment increased from 300 to 700 employees, including over 200 engineers.

Investment Highlights
3x increase in sales during the investment period (to EUR 81m in 2021)
4x increase in EBITDA during the investment period (to EUR 10m in 2021)
9x Cash-on-Cash return
Rockfin's main customers include companies such as Siemens, GE, Mitsubishi Hitachi Power Systems and MAN Energy Solutions. The sale of Rockfin in the first quarter of 2022 to the Czech investment fund Jet Investment returned the entire THC 2 fund with a large excess.